Thinking about doing more with photo editing than the average Instagram filter allows? Smart move. These days, most companies believe that a basic knowledge of Photoshop isn't just a nice asset – it's a must-have for professionals in many fields. From administration to marketing, a solid grasp of Photoshop has become just about as necessary as knowing how to create a website (just saying). Even small business owners (who we know wear many hats) can create their own sophisticated designs at an affordable price thanks to this tool.
When it comes to image editing, Photoshop is so synonymous with the act that it's become the verb to describe it. However, it wasn't too long ago when this program was regarded as a complicated secret weapon that only graphic designers could use. Flash-forward to today – when computer knowledge is widespread, and all you need is the right guide to master this photo editing tool yourself. From blemish removal to adding impressive design elements, we've got you covered with the ultimate Photoshop tutorial for beginners.
Note: All shortcuts in this article are phrased for PC users. Mac people – you know what to do 😉
Resize, rotate or flip an image
Looking to spin your image right round, baby right round? Here's how to easily move your pics in the right direction:
Start by clicking 'Edit', and 'Transform'. You'll then be able to choose the action you desire: 'Resize', Rotate', or 'Flip'.
Or try these shortcuts to make life even easier: Press Ctrl + T on your keyboard and a bounding box will appear around the image, indicating transformation. This means you can now resize your image. The best way to do so is by placing the cursor on one of the rectangle corners of the box and then dragging the corner while holding the 'Shift' key. When you're finished, just press 'Enter' and you're done.
To flip or rotate your image vertically or horizontally press Ctrl + T and then right click your mouse. A popup window will appear with a few options for rotating and flipping the image. Select the action you want and press Enter when you are done.
Make your image fit any surface with 'Warp'
Surprise your family and friends by placing a photo of them on a cup, a saucer or any kind of curved surface! The 'warp' command lets you do just that: give a '3D look' to a flat image. Let's continue with the mug example. Start by adding your mug to the background layer, and the image you'd like to place on it to the foreground. Place the image atop the mug based on how much of the surface you're looking to cover.
Then, get warping!
Press 'Ctrl + T'
Right click and select 'warp'
Adjust your image to fit the background object by adjusting the edges of your image
When you're happy with the result, press 'enter' and voila!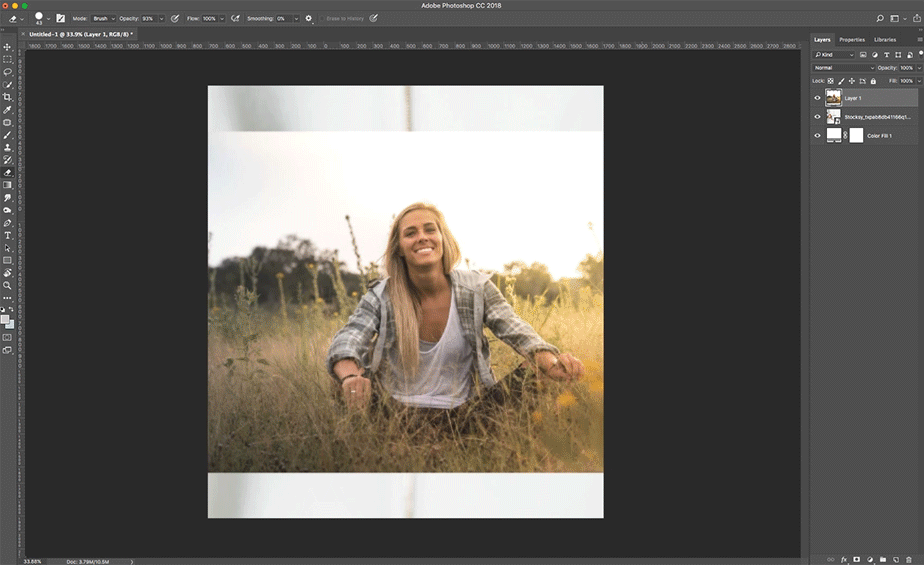 Magnetic Lasso tool
The Lasso is basically God's gift to photo editing. This easy selection tool helps you trace and outline the exact part of an image that you're looking to edit, and then separate it from the rest in order to perform certain actions. For example, you can select and separate a product from its background. Nearly fool-proof, the magnetic lasso tool detects the edges of an object, so it works best when you have a bold contrast between an object and its background with well-defined edges.
The Magnetic Lasso appears in plain sight in your Photoshop tool-panel.
Just click and hold your mouse button down on the 'Lasso' tool until a fly-out menu appears.
The Magnetic Lasso is the last one with a small magnet on its icon.
Select it and then go to your image layer.
Place your mouse on the edge of the part you want to alter. Click your mouse once, release and just go over the edges of the object you want to select (just like you would with scissors when you cut something out).
Magic Wand tool
The Magic Wand is another selection tool, ideal for when you are working with a background that is more monotone and consistent (like a solid color or a clear blue sky). It's most often used to switch up backgrounds or large color blocks.
How do you use it?
 Choose the 'Magic Wand' tool from the tools panel
Click on the part of the image you want to select
Make sure that you toggled the "add to selection" option on the top bar (icon of two squares) so that you can move forward with switching up the colors and tones of your selection

Adjustment layers
This is a beautiful Photoshop asset for the commitment phobes among us, adjustment layers allow users to apply color or tone alterations to an image, while keeping the original photo in tact.
Wondering what a photo would look like if only the sky was purple for an instant? Let your imagination run wild and adjust the color and hue on elements of your image by adding a top layer to it (rather than committing to change the image entirely). The best part about this feature is by adding that extra layer, you can totally reverse your changes while keeping the rest of your image intact.
You will find the 'Adjustment Layers' tool in the bottom of the the 'Layers Panel' (a black and white circle icon).
Layer styles
This is a simple and easy way to add some pizzazz to your image. Layer Styles are special effects that can be quickly applied to individual layers of your image. All you have to do is double-click on a layer and then choose the effect you like. You can select from a whole variety of features, add a stroke or a glow, drop a shadow, and much more with just a click of the mouse. Be warned: this feature can be addicting. Don't overdo it as these effects have a tendency to look cheap when used in excess.
Retouching with the Clone Stamp
One of Photoshop's most notorious assets is its ability to touch up life's little imperfections from photos. There are several shortcuts to alter a photo or image into something flawless, and one of them is the 'Clone Stamp'. Before you start smoothing over any embarrassing signs of your pre-teen era, let's talk about the basics.
You can find the Clone Stamp in plain sight in your toolbox, or use the shortcut 'S'. Then, follow these steps:
The trick to a great retouch is finding the area of your photo with the ideal color and texture that you can duplicate and reuse in the part of your photo you're looking to edit. To do that, first settle on your brush size. You can use your square brackets ([ ] ← these guys) to enlarge or minimize the size
Hover over the area you want to copy from
When you find it, press 'Alt key + click', to copy the area. And click your mouse into the area you're looking to paste it in
Repeat steps 1- 3 often to add a variety of shades and texture to your retouching work. Remember, variety is what differentiates an 'ok' retouch from a flawless one.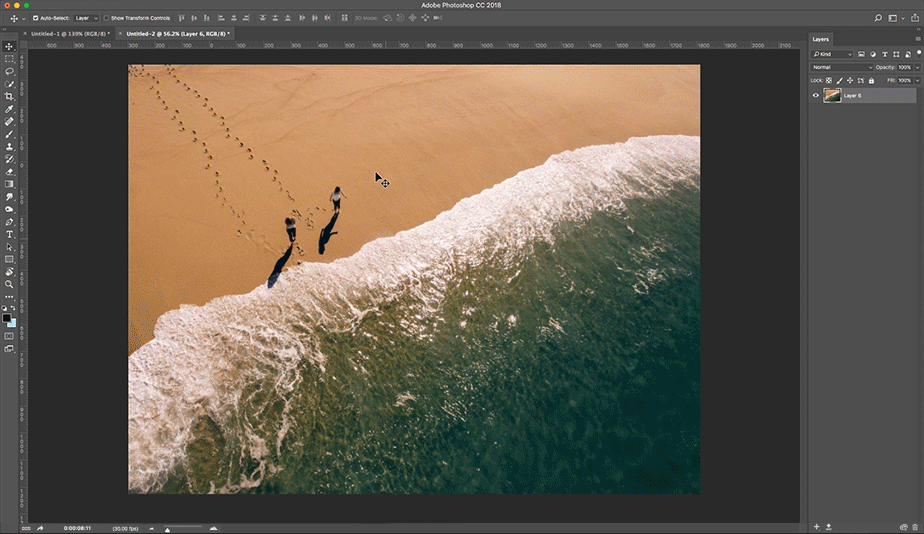 Retouching with the Healing Brush
If you're looking to do some photo-retouching magic, the Healing Brush is arguably your best bet. Find the healing brush under the 'Spot Healing Brush Tool' in your Toolkit. This tool can be used to color-match the area that you're retouching, and unlike the Clone Stamp, it takes texture and shade into consideration to add a multidimensional edge to your editing. Also unlike the Clone Stamp, there's no need to first select the area that you'd like to color match from. Instead, simply click to adjust imperfections (like say a massive zit) in your desired area. Finally, you can use the square brackets to adjust your brush size and get your editing on.
Dodge tool
The Dodge tool lightens pixels wherever you use it. So in other words, it's the perfect Photoshop tool to do away with "tired, sleepless eyes". If you're looking to give a face in your image a brighter, appearance, here's how to do that:
Set the Dodge Tool to a soft brush
Go to 'Range setting' in the menu bar's pull-down and choose 'highlights'
Set Exposure on around 20% and then carefully brush over the part you're looking to lighten. Classic examples are brightening teeth or eyes.
This will make the person in your photo achieve that fresh and more awake look that you're after. Remember not to overdo it, or your fresh face will start to look like an alien. A few simple strokes should do the job.
Blur tool
Sometimes all you need from Photoshop is to do away with some fine lines. That's where the Blur tool comes in. The Blur tool can be found in your Photoshop toolbox – it's the one that looks like a teardrop. Use this feature to smooth-out small imperfections like the wrinkles around the eye or mouth area and simply blur them into the background. Again, be gentle and remember not to overdo it or instead of improving your image or you can end up spoiling it.
Feeling inspired? Create your own flawless website today!
If you are looking to make money from running your own business at home, visit the links below.
Computers and Software Buyers Guide
Compare Computers and Laptops
Mobile Phones Buyers Guide
Compare Mobile Phones
Game Console Buying Guide
Compare Game Consoles
Tech Shop Offers